Description
QV 1901 T.H. Downing & Co 1d pink uprated with 1½d sg198 cover to Saxony, embossed with their logo.
An advertisement of the company (not included)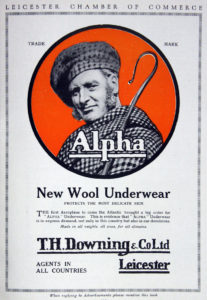 T.H. Downing & Co of Leicester were Hosiery Manufacturers at Newarke Street and Pocklington's Walk, Leicester. Established early last century by Charles Lea, under the style of Charles Lea & Co. In 1854 Thomas Henry Downing took over the business, in conjunction with Robert Humberstone (nephew of Charles Lea). In 1879 Robert Humberstone retired. T. H. Downing (d. 1902) was joined in partnership by John Wainwright, Joseph Read, and Robert Parker, the firm trading as above. Joseph Read retired 1881 and John Wainwright in 1888. In 1889 Francis Strange Brice (nephew of T. H. Downing) was admitted partner. In 1891 Robert Parker retired, and in 1898 Robert Walter Kaye (nephew of T. H. Downing) became partner. Present Principals (since 1902): Francis Strange Brice, Robert Walter Kaye. Staff: 400. Staff Club: Cricket. Branches: Warehouses, London, Liverpool, Manchester, Cardiff, and Birmingham. Agencies and Representatives: Australia, Canada, South Africa, China, Japan, Egypt, Syria, Turkey, Norway, Sweden, Holland. Business: Manufacturers and Distributors to the principal Retail Houses of all kinds of Hosiery and Knitted Underwear; also Ladies' Blouses, Golf Jerseys, Athletic Clothing. Connection: United Kingdom, Foreign, Colonial. Telephones: No. 3931 (seven lines), Leicester No. 9827 (London Wall) London; No. 276 (Royal) Liverpool; No. 1919 Cardiff; No. 5568 City, Manchester; No. 3387 Central, Birmingham.